Talk to a Taipei Technist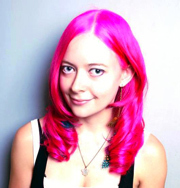 Aleksandra Cieslikowska
My name is Aleksandra Cieslikowska. I'm currently studying at National Taipei University of Technology, also known as Taipei Tech.
Taipei Tech is renowned for its excellent quality and hardworking students. It is the most famous Technology University in Taiwan.
I however am study in The English Department. The reasons why I chose to study at Taipei Tech were for the following; it has an excellent reputation, along with it being one of the only few universities in Taipei City which offers an English Degree for undergraduate students. The campus is quite small compared to other universities, but still provides a welcoming and warm feeling, setting new, young, eager students at ease.
In the English department, one will find themselves choosing from a variety of interesting courses. These courses will improve your logical and creative thinking. Our department is fortunate enough to have classes taught by both local and international professors. This giving students the understanding of academic work from both a Taiwanese and International perspective.
All English Major Students are also required to pass a TOEIC test with a score of no lower than 900 before their graduation, ensuring us that we are ready to enter the competitive business world at the end of our studies. We also have the opportunity to study a second foreign language in our second year. By doing so this opens up more opportunities in a professional working environment.
For anyone that has a keen interest in the English language, the English Department is definitely well suited for you. You will be able to improve in areas such as grammar, writing, conversational English, Business English, and many more. You will also be exposed to beautiful old literature, modern day literature, and learn to understand them in a new light.
If you have any questions regarding the English Department please feel free to contact me via email: aleksandra 01@gmail.com
▲ TOP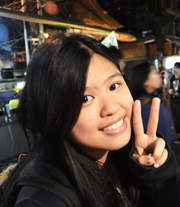 Virginia Chan
My name is Virginia Chan and I come from Panama. I'm currently finishing my second year of Industrial Design (undergraduate program) at Taipei Tech, and I can say that the experiences I've earned here are wonderful.
I selected Taipei Tech because I heard that the Department of Industrial Design was one of the best in Taiwan and has won many design competitions. Ever since I was young, I have always been interested in design. Therefore I chose to enroll in one of the best University in Taiwan.
Studying in a country where students has been preparing since high school is not easy at all. For example, in my department, everyone knew how to make a sketch while I didn't. Consequently, I went through a more difficult time, but later on you discover that Taiwanese people are super friendly. All my classmates were willing to help me with any of my questions and concerns, and that's what made this journey so much more interesting and enjoyable.
In industrial design, we treat each other as family. We have fun and enjoy the process of designing.
What I love about my department, besides my classmates, are the teachers. They know what they are teaching, and at the same time they try very hard for us to be able to understand a class fully spoken in Chinese.
This university has offered me numerous tools both academically and in life, and I've experience what is really like studying overseas.
If for some reason you decide to come to Taipei Tech to further your studies, I can say that it isn't easy, but it is definitely worth it. You will be able to make a lot of friends, and learn many things that will advance your career.
If you have questions, you can always go to the Office of International Affairs. They are always there to help. The international student's community in Taipei Tech is extensive, and we are always glad to receive a new member in our school! Hope you will join us!
Contact Me: chanixb@hotmail.com
▲ TOP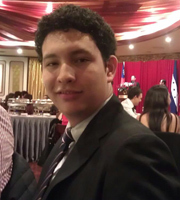 Jorge Sanchez
My name is Jorge Sanchez, I'm a Honduran Intl student at Taipei Tech, bachelor in Mechanical Engineering - Mechatronics Division and Master Candidate at Graduate Institute of Manufacturing Technology.
I've been in Taiwan since 2007 and in Taipei Tech since 2009. I chose Taipei Tech because it is one of Taiwan's top technical universities, with over 100 years of history, and Mechanical Engineering being my interest, and one of the oldest departments at the university, I figured "they must know what they are doing in there!" All of the professors are graduates from top national or international universities and they all are respected researchers for their respective fields.
Another thing that called my attention is how open and welcoming they are to international students at Taipei Tech. They offer classes aimed specifically for us; the university understands that most of us doesn't have high Chinese proficiency, so they established courses to strengthen our Chinese. Some of the courses are even taught completely in English, it really helped us understand and have a better student life. An English friendly campus is a big help in the freshman year, when time is never enough to keep up with the Chinese-taught courses. It was a breath of fresh air, because it makes a great difference to be taught in a language you do understand completely.
Personally, I am very happy with my decision to enroll in Taipei Tech. Even though class is mostly taught in Chinese for required courses (which made 2nd and 3rdyear very tough), but the teachers and local classmates were very understanding and helpful. In addition, Office of International Affairs is always helpful in so many ways and pays attention to our overall needs.
For you guys out there considering your future education, Taipei Tech is one of the best choices there is. Taipei Tech is a multilingual, multi-cultural and multi-ethnical gathering point for students from all over the world, offers quality education in many fields, many opportunities for internships and research, many extracurricular activities, very helpful staff, great location in Taipei City, and many things more.
I'm proud to graduate from such an important and high-regarded institution, with so much history and I know you will be too.
Contact Me: jorgekaz07@hotmail.com