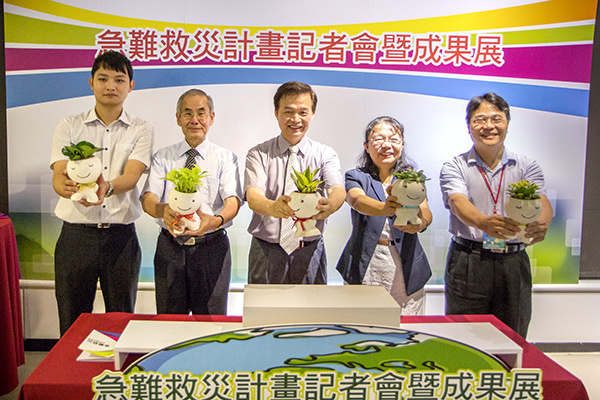 Taipei Tech and Tzu Chi Foundation joint hands to develop useful device for disaster rescue. A presentation was hold at Taipei Tech on 3 June, 2015. Some of the deviceswere already been used and received great resultwhen anair blast happened in Kaohsiungin July 2014.
Taipei Tech is well-known for engineering technology. With the goal of sustainable development, Taipei Tech collaborates with prestigious schools to do cross domain research. WenLung Li, the Vice President of Taipei Tech, notes that Taipei Tech and Tzu Chi University became sister schools in 2012. Tzu Chi University is famous for medical technique. The two universities work in various research topics including medical engineering, environmental engineering, ecological sustainability, and energy reuse together. In addition to areas above, Taipei Tech also wants to devote in internationalhumanitarian aid technology development.
Cai Dui, former minister of Ministry of Transportation and Communications, also notes that when huge disaster happens, how to control disaster situation and affect range, schedule suitable equipment, produce clean drinking water, and provide place for victims are curtail in rescue operations. Taipei Tech developed four designs in respond to these problems.
The "Unmanned Aerial Vehicle Real-time 3D Search System" designed by associate professor Guo Zhen Chang at the Department of Graduate Institute of Civil and Disaster Prevention Engineering at Taipei Tech can send aerial photo back to the control center and made 3D image. With the"Unmanned Aerial Vehicle Real-time 3D Search System", rescue team can update situation in no time.
When disaster occurred, while outdoor situation can be controlled with huge machine on a large scale, indoor repair can only rely on human rescue due to the non-distortive need for some type of disaster like debris flow caused by extreme rainfall that lead to water flooding in people's houses.
Though human rescue is more delicate than machines, relief workers would encounter many obstacles such as rocks and bad weather that made rescue difficult. The "Micro Disaster Relief Loading and Transport Device" was invented under these rescue need. Designed by professorGuoXiu Huang at the Department of Vehicle Engineering at Taipei Tech, the "Micro Disaster Relief Loading and Transport Device" is able to go into affected households to help and clean the area.
People cannot live without water. Clean water is important during disaster relief, the "Misfortune Emergency Water Filter" designed by associate professor Wen Da Su at the Department of Chemical Engineering and Biotechnology at Taipei Tech can transform dirty water into clean water in a short period of time. The "Misfortune Emergency Water Filter" use electrospinning technology to form nanometer filter holes. Along with nanometer silver ionssterilizationmechanism, The "Misfortune Emergency Water Filter" can purify sewage into drinkable water quickly.
When earthquake occurred, affected house will no longer suitable for living. The "Emergency Disaster Relief Refuge House" use FRP fiberglass strengthen plastic material that is both light and intense therefore suitable for transportation. As soon as the"Emergency Disaster Relief Refuge House"is transported to the rescue scene, it can be launched and assembled right away for residency.
When natural disaster occurred, how to provide instant and effective rescue device often plays an important role in maintaining human life and avoiding situation expansion said Zhao Jin Su, the Dean of Research and & Development Affairs. Under support of Exemplary University of Science and Technology Project, Taipei Tech will continue to dedicate in rescue device research and development. In the future, Taipei Tech hopes to master rescue technology that can save the world from disaster damage and fulfill the purpose of sustainable development.