Taipei Tech and TSMC Join Hands to Launch Semiconductor Devices Industry Program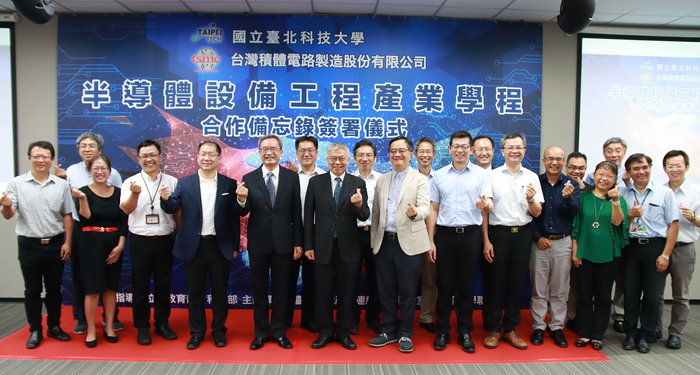 To provide students with a seamless transition from school to a career in industry, Taipei Tech and Taiwan Semiconductor Manufacturing Company (TSMC) signed a partnership agreement to start the Semiconductor Devices Industry Program in Fall 2020. Students who participate in this program will have a better opportunity to intern and work in TSMC, one of world's top semiconductor manufacturing companies.

President Sea-fue Wang of Taipei Tech indicated that this program is tailor-made to train students in the core capabilities of circuit and mechanical structure, sensor and vacuum technology, electromechanical integration, and automation applications in the semiconductor field. This program also integrates learning, research, and hands-on practice, allowing students to intern at TSMC to gain first-hand experience working in a world-class semiconductor company.
Enrolled students need to acquire forty-eight credits in the Semiconductor Devices Industry Program. The credits include twelve required courses and at least four electives with subjects related to semiconductor manufacturing and advanced equipment technology. Yang Shih-Hsuan, Dean of the Taipei Tech Office of Academic Affairs, said that students who have completed the program will receive a certificate jointly issued by Taipei Tech and TSMC. They are also ensured the opportunity to intern at TSMC and guaranteed the opportunity of a job interview for a formal position.
TSMC is also offering a base salary boost for outstanding students from this program who will later work in the company. TSMC hopes to work with more top domestic institutions to improve the quality of talents for Taiwan's semiconductor industry and strengthen the competitive advantage of Taiwan's semiconductor industry in the global market.
Earlier this year, Taipei Tech Institute of Mechatronic Engineering worked with TSMC to provide the course "Advanced Technology and Equipment for Integrated Circuit Manufacturing." Managers from TSMC, employed as industry lecturers, planned the course and gave weekly lectures in collaboration with Taipei Tech professors. Students in this course were required to give presentations during the weekly courses, and the lecturers from TSMC provided feedback and first-hand industry information. Students were able to acquire solid semiconductor training, effectively reducing the gap between school and industry. Students also went on a site visit of TSMC and its partner companies to better understand the many processes in the semiconductor industry. Six of the students from this course have been interning at TSMC since July this year.