Taipei Tech and Acer Sign Partnership in Forum on Smart-health Buildings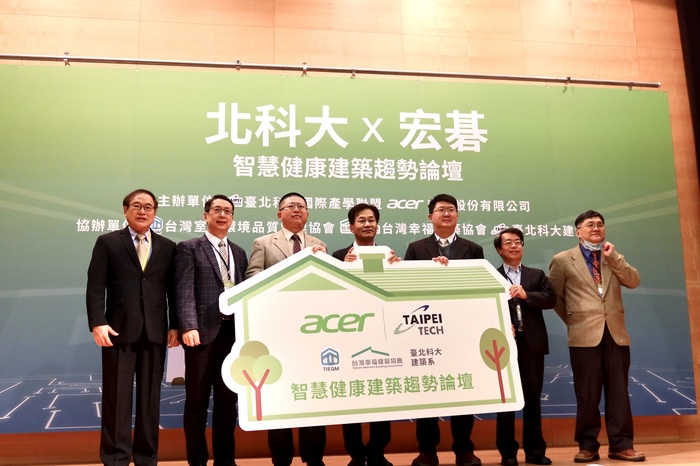 On December 15th, Taipei Tech and Acer Inc. held a forum and inked the partnership on smart devices that are designed to improve air quality in buildings. Through this partnership, the two parties aim to pour resources together to develop technologies and cultivate talent that can expand the adaptation of smart health devices in buildings in Taiwan.
Jen Yi-Jun, Vice President of Taipei Tech, indicated that Taipei Tech has been deeply engaged in areas related to indoor environment quality control for years. They include smart sensor, buildings enabled with smart health technologies ("smart-health buildings"), and refrigeration and air conditioning engineering. The research and development capacities of Taipei Tech are widely recognized by the industry. "By working together with Acer," said Jen, "I believe we can take the development of smart-health buildings in Taiwan to the next level".
In March, Acer launched a campaign to promote their own air quality improvement solutions. Samuel Chang, Acer's Taiwan operations chief, mentioned that air quality has become an even more significant issue during COVID-19. Chang is confident that through integrating resources of Acer and Taipei Tech and working closely with the Environmental Protection Administration and the Industrial Technology Research Institute, this partnership can redefine smart-health buildings.
Tsai Meng-Yu, Director of the Department of Air Quality Protection of the
Environmental Protection Administration, noted that the government has been strictly implementing the Indoor Air Quality Act since 2011 to monitor the air quality of indoor sites such as universities, hospitals, train stations, gyms, and entertainment facilities. "We have also worked with local governments to establish a cross-regional air pollution response team to maintain air quality," said Tsai.
Eco-friendly building materials are also the focus in the forum. Hu Shih-Cheng, Professor of Taipei Tech Department of Energy and Refrigerating Air Conditioning Engineering, explained that the excess building density of urban area can easily lead to the Sick Building Syndrome that causes potential health problems. Shao Wen-Cheng, Director of Innovative Green Building Materials Research and Promotion Center of Taipei Tech, indicated that using eco-friendly building materials can effectively prevent Sick Building Syndrome.
According to the World Health Organization (WHO), nine out of ten people worldwide breathe polluted air. Clean and safe air in population-concentrated buildings is especially important in a pandemic such as COVID-19.