Taipei Tech Celebrates 109 Years, Confers Honorary Doctorate Degree on Distinguished Alumnus Yeh I-Hau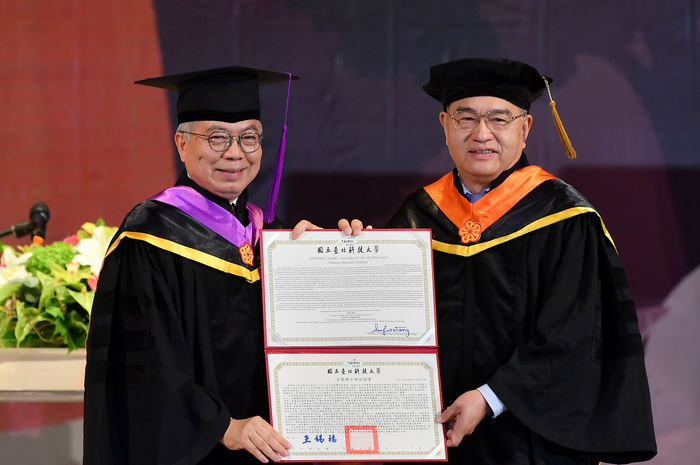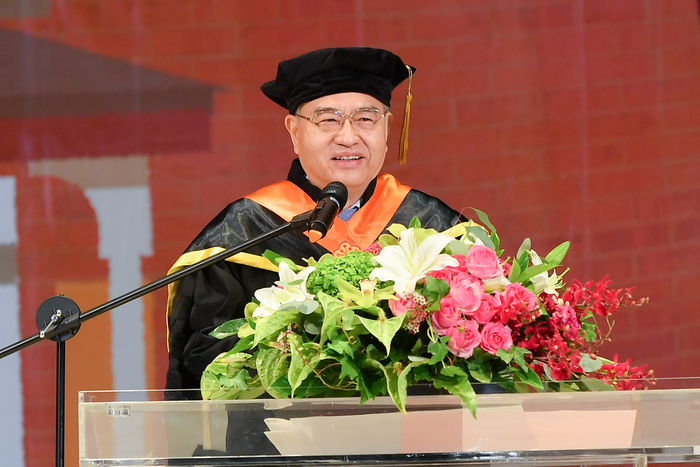 Taipei Tech celebrated its 109th anniversary on October 31st. Among the honorable guests invited to the celebration ceremony were Senior Advisor to the President Yen Chih-Fa, Examination Yuan Minister without Portfolio Yao Leehter, Vice Minister of Economic Affaires Lin Chuan-Neng, Topkey Corporation Chairman Walter Shen, and AUO Chairman Paul Peng.
Yeh I-Hau, Chairman of Elan Microelectronics and Taipei Tech distinguished alumnus, was conferred the honorary doctorate degree at the ceremony. Under Yeh's leadership, Elan Microelectronics is now a global leader in the design and manufacturing of integrated circuit (IC) for laptops, touchscreen controllers, and image processors. Yeh also has contributed greatly to AI education and has been a sponsor of the Taiwan AI Academy since its inception. Yeh is an active partner of Taipei Tech and has sponsored the industry-academia cooperation project implemented by Taipei Tech and MIT.
Yeh graduated from the Department of Electronic Engineering of the Provincial Taipei Institute of Technology, the predecessor of Taipei Tech, in 1977 and later obtained his master's degree from National Chiao Tung University. Yeh has been leading Elan Microelectronics with grand vision since the company was established in 1994. With access to key patents, Yeh was able to place the company in a strategic position, and now Elan Microelectronics holds more than 50% of global market share in touchpad, touchscreen, and point stick IC.
As an engineer, Yeh believes in technology autonomy and research and development. Under his leadership, Elan Microelectronics finds the untapped market of touch device applications and was able to break through the patent wall of established companies. Yeh has been instrumental in the company's success in the global market, and Elan Microelectronics has received several awards, including the CES Innovations Design and Engineering Awards, and was listed three times as one of Forbes Best Under a Billion Companies. In 2020, Elan Microelectronics is included in the Taiwan Mid-Cap 100 Index, Taiwan Technology Index, and Taiwan High Dividend Index in Taiwan's stock market. Yeh is also listed as one of the 100 best-performing CEOs in Taiwan by Harvard Business Review.
Yeh mentioned that the practical training of Taipei Tech and spending time looking through the new consumer electronic products at the Guanghua Computer Market helped cultivate his interest in IC design and management. Yeh is a big supporter of his alma mater and frequently gives back to the university. He has supported the industry-academia cooperation programs between Elan Microelectronics and Taipei Tech. In addition to donating lab equipment, he has also donated to the Taipei Tech development fund and provided scholarships. Yeh has also generously sponsored the City Science Lab co-founded by Taipei Tech and the MIT Media Lab.
Taipei Tech President Wang Sea-Fue said that he deeply appreciates Yeh's and many alumni's contributions toward Taipei Tech. Their dedications enable Taipei Tech to relentlessly strive for progress and excellence. Wang said in his address at the ceremony, "Taipei Tech is now celebrating its 109th birthday, and this year we have made a great leap and are recognized as one of The World's Top 500 Universities. We also have government commissions to execute two major projects in offshore wind power and railway engineering. These major breakthroughs implicate that our effort and practical abilities are highly recognized. We look forward to an even brighter future of Taipei Tech, and we hope our alumni can continue to support us on the way to pursue greater achievements."