Enhancing Measures on Campus Safety and Security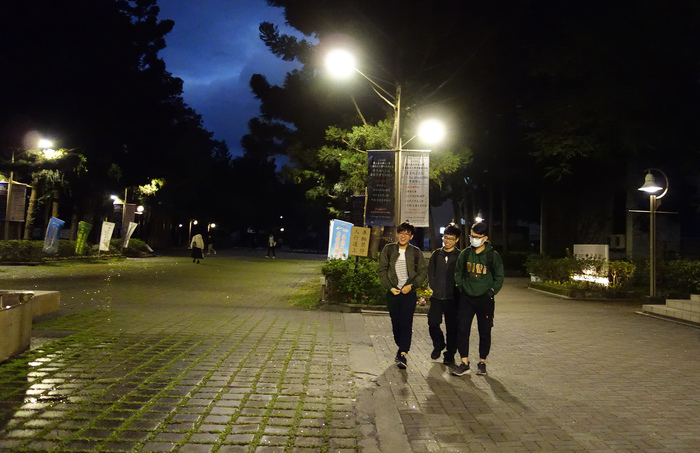 Two meetings on campus safety have been held recently to discuss possible measures to take in order to construct a safer campus environment. With the support of Taipei Tech alumni company, Everlight Electronics, the lighting system maintenance on campus has been completed in early November, and the overall brightness of the light was increased by more than 20%. In addition, the lighting-up time has been changed to 5 pm every day.
To provide a safe route for students who live in the dormitory, the light along the way will be on until 3 am. Entrance control will be implemented at the dormitory with a 24-hour security guard. Off-Campus visits will also be conducted to assist students in inspecting the safety of their residences and the surrounding environment. Instructions on emergency handling procedures and safety awareness will also be provided.
Wang Sea-Fue, President of Taipei Tech indicated that in early 2020, Taipei Tech has been utilizing the cloud service system to manage entrance control as a preventive measure of the Covid-19 pandemic. The system database will automatically update the personnel data with the school management system and the card service system to monitor the entrance and potential risks. "In terms of our surveillance systems," said Wang, "We currently have about 300 CCTV cameras on campus and they will all be upgraded to the newest webcams to enhance campus security".
Su Cherng-Yuh, Taipei Tech Secretary-General, noted that our Campus Security Center and the Security Rooms are on duty 24-hour a day, and patrol operations have been increased in certain hot spots. At the beginning of every new semester, we will provide safety-related information to the freshmen such as the campus safety map and our 24-hour hotline number to enhance their awareness of this important issue. Taipei Tech had also signed an agreement with the nearby police station to increase 4 hot spots for police patrol in the neighboring area. The Taipei City Police Department Daan Precinct will also send police officers to Taipei Tech to teach students basic self-defense moves to protect themselves when an emergency strikes.