Campus Going Green: Taipei Tech's New Facility as Demonstration Site for Clean Energy Education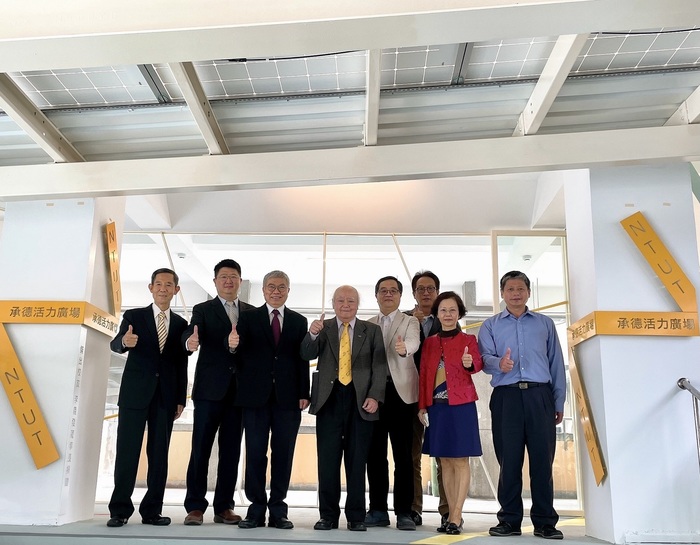 The newly constructed "Chengde Sunshine Square" located at the rooftop of Taipei Tech Library is a semi-outdoor space of ​​270 square meters, which can be used for exhibitions, student activities, or as a recreation center for both students and faculties. The greatest feature of the square is that its rooftop is built with solar panels and steel structure to generate solar power used by the administration building. The annual power generation of the solar power system is nearly 94,000 kWh, which can save the school about 300,000 NTD in electricity expenses.
The man who facilitated the establishment of the Chengde Sunshine Square is Taipei Tech alumnus, Lee Yi-Fa, who is also the Chairman of Chant Oil Co. Ltd. Lee's oil company specializes in turning discarded oil collected from fast-food restaurants and fried chicken stands into biodiesel. The notion behind the production of the biodiesel aligns with what the EU believes in which are circular economy and sustainability. Therefore, with European countries lining up to purchase the biodiesel, Lee exports approximately 60,000 tons of biodiesel yearly to Europe and generates about 2 billion profit per year.
Lee indicated that he has always been eager in the development of clean energy, and although his company is not directly related to solar power development, he believes that by utilizing clean energy, we can effectively reduce the impact of environmental pollution. In this regard, Lee has donated the funds for the construction of Chengde Sunshine Square, and he hopes that the square will be an example that demonstrates sustainability and the practical use of green energy system.
Taipei Tech is recently ranked first in the high rise building category of the 2020 UI GreenMetric University Rankings which indicated the university has been making great efforts in creating a sustainable campus. Taipei Tech has also initiated and participated in numerous projects related to green energy, reducing greenhouse gas emission, smart building, and energy conservation. Taipei Tech President, Wang Sea-Fue noted that "the inauguration of the Chengde Sunshine Square is the first major event that kick start the celebration of Taipei Tech's 110th anniversary, and special thanks to our alumnus, Lee Yi-Fa, for his generosity, which enables the square to be a demonstration site for clean energy education".