Cultural Vocation Development Sophomores Hold Online Exhibition "The View of the Twenties"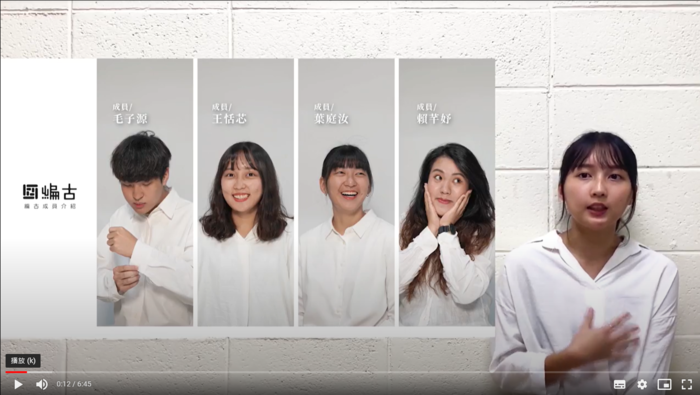 Sophomores of the Department of Cultural Vocation Development organized an online exhibition named "The View of the Twenties" to showcase their projects. In the exhibition, the students reflect on what they value, their world view, and their outlook of life. The exhibition is available to view until July 31st at https://st1005318.wixsite.com/ntutcvd.
Mao Ziyuan, Wang Tianshin, Yeh Tingru, and Lai Chuanyu revisit the Malahtangia (hunting festival) of the Bunun indigenous tribe of Taiwan and incorporate symbols from this festival and the tribe in the design of modern tableware and light fixtures. The team made a vase based on the shape of a traditional millet mortar, a light fixture using the hexagonal weaving technique found in traditional Bunun back baskets, a set of ceramic plates that incorporate the Bununs' traditional diamond pattern, and a placemat based on the shape of traditional Bunun sieves. Through this project, the team hopes to introduce the Bunun culture to a wider audience.
For their project, Wang Yi-Jing, Chang Pei-Hsuan, Chen Chin-Hui, and Feng Pei-Rong made lamps inspired by a specific fishing method called "fire fishing" used by fishermen of the Huanggang Fishing Harbor of Jinshan in New Taipei City. Fishermen would light sulfur to attract the light-seeking scaled sardines. When hundreds of sardines would leap out of the water toward the fire, their scales would briefly reflect light onto the surface of the dark ocean. This fleeting moment is what the students intend to capture and transform in their work. They also use natural materials such as wood and hemp rope in their work to honor environmentally-friendly fishing.
Living in the convenience of the twenty-first century, Yu Hui-Wen, Shen Ting-Ni, and Su Ying-Wen realize that they are both blessed by modern technology and frustrated with the intrusions it brings. They put together an immersive art installation called the "Carefree Twenties" to reify these contradicting emotions. The installation is a tent-like structure with an opening on top and a stool at the center floor. Participants enter the structure and stand on the stool to peek out from the tent, which contains undulating, wavelike patterns that represents one's distracted mind. The team wants to remind participants to remember to view the world from a different perspective.
Yang Hsiu-Hui, Chair of the Department of Cultural Vocation Development, notes that she is impressed by the resilience these students demonstrate. "They needed to rethink the exhibition in an online format after the Level Three COVID-19 alert announcement," said Yang, "and the students put together this online exhibition through strong teamwork."