Taipei Tech Donates Student-Designed Masks to Neighboring Communities and Hospital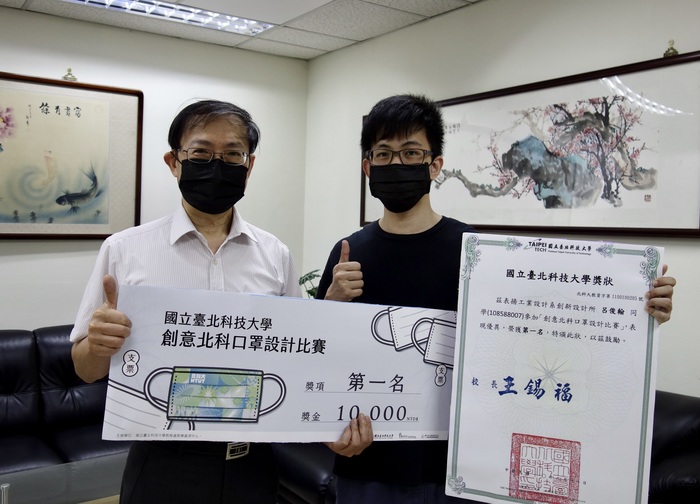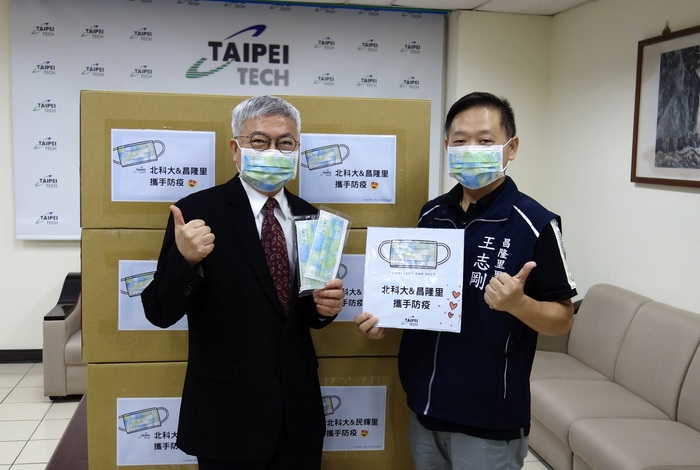 In response to the surge of domestic COVID-19 cases and to raise awareness of university social responsibility (USR), Taipei Tech held a student mask design contest, in which the winning design was mass-produced and given to the neighboring communities and Taipei Municipal Wanfang Hospital.
The mask designed by Lu Jun-Han, an industrial design master's program student, won the first place of the contest. The base of the design is a gradient color composed of blue and green—Taipei Tech's school colors. The graphics include representative images of the Big Bang, infinity, and the universe, all based on Taipei Tech's oval emblem. Lu also included graphics of turtles as they are commonly found in the pond on campus.
Wang Sea-Fue, President of Taipei Tech, pointed out that ever since the COVID-19 local outbreak, members of Taipei Tech and surrounding communities have all adhered to the pandemic prevention measures to safeguard the community. "We have donated six thousand Taipei Tech masks to our neighboring communities, including the communities of Minhuei, Changlong, and Zhuyuan, and to Wanfang Hospital," said Wang, "and we hope to express our gratitude toward members of the communities and the health professionals during this critical time."
Chen Wei-Zhen, representative of the Minhuei community, mentioned that his father is a Taipei Tech alumnus, so he is particularly grateful for Taipei Tech's warm gesture. Li Lin-Yao, representative of the Zhuyuan community, thanked Taipei Tech for caring the collective wellbeing of the community. Wang Zhi-Gang, representative of the Changlong community, pointed out that Taipei Tech has been implementing an USR project to improve the landscape of the community. "Taipei Tech always takes initiatives in local revitalization, which shows how members of Taipei Tech care about our community," said Wang.
Chen Tso-Hsiao, Superintendent of Wanfang Hospital, said that the vibrant color and design of the Taipei Tech masks will bring a pleasant mood to the medical staff. Yang Shih-Hsuan, Dean of Taipei Tech Office of Academic Affairs, indicated that the university wishes to send our support and gratitude through these masks toward the medical staff who have been working hard to protect our health during the pandemic.