Taipei Tech and Feng Yuan Junior High School Demonstrate Best Practice of Sustainable Education for Woodcraft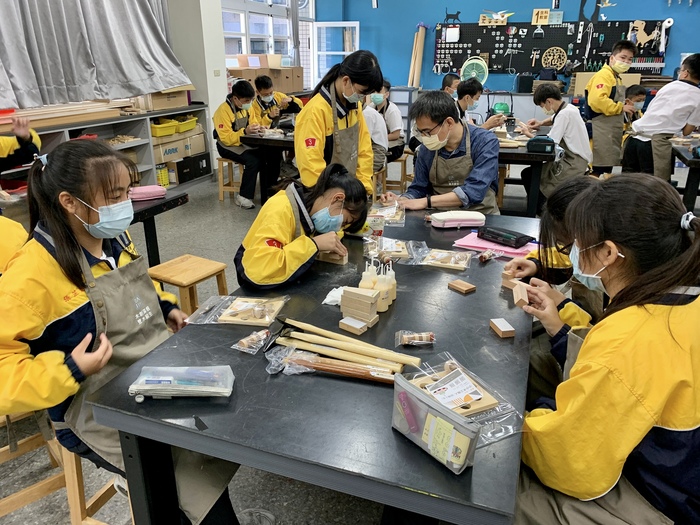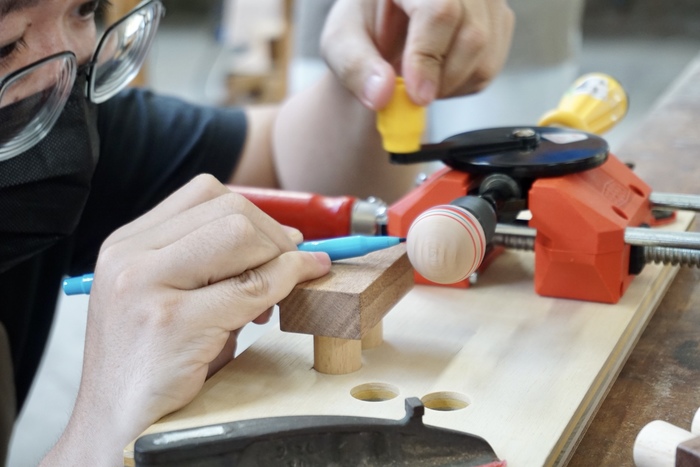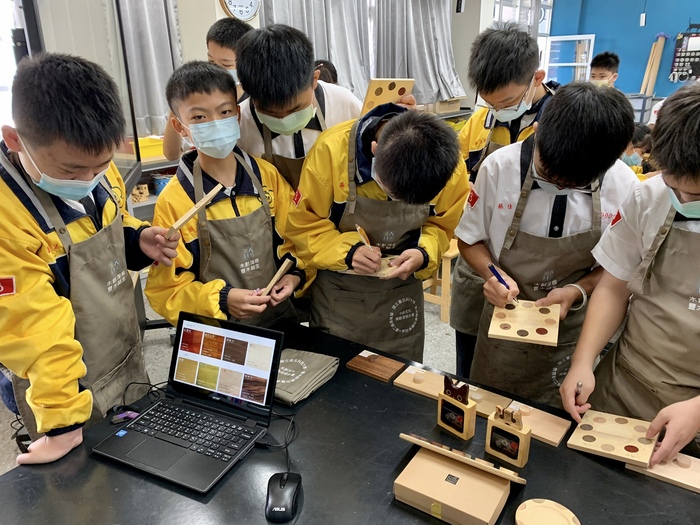 As the pandemic eases in Taiwan, Taipei Tech started to promote woodcraft education at elementary schools and junior high schools in November. Feng Yuan Junior High School located in Taichung is the first school that Taipei Tech collaborates with to enhance culture and sustainability education. Three hundred students participated in the three trial classes to learn every basic aspect of woodcraft.
The classes were conducted by two teachers, one from Taipei Tech and one from Feng Yuan Junior High School, who bring in the documentary films of six local woodcrafting masters demonstrating woodcraft skills. Taipei Tech provided all the equipment and materials needed in the classes that allow students to experience and practice practical skills such as wood identification, inlay, lathe, scroll saw and wood carving.
Song Jen-ping, the Design Manager of Taipei Tech Center of Woodwork Technology and Innovation (CWTI) and an alumnus of Taipei Tech, noted that the cooperation project has been planned since the beginning of 2021. "We have finally been able to implement the trial classes that can inspire both teachers and students to think innovatively and experience the diversity of woodcraft education" said Song.
Thomas C.K. Yang, Vice President and Deputy Director of the University Social Responsibilities (USR) Office of Taipei Tech, pointed out that the Woodcraft Cultural Legacy Renewal Project initiated by the Taipei Tech USR Office aims to plant the seeds of woodcraft education to cultivate elementary and junior high school students' aesthetic and practical capabilities. "The project provides a cross-generational and cross-disciplinary exchange platform to reinforce cultural awareness on traditional woodcraft, and it also aligns closely with the United Nation's Sustainable Development Goals of promoting quality education" said Yang.
Huang Yun-siang, one of the students participated in the trial classes indicated that the classes were interesting and educative that she was able to acquire the knowledge regarding wood materials and woodcraft, and learn how to make wooden coasters from scratch. Chang Yun-hsuan, another student of Feng Yuan Junior High School said that her father is also in the woodworking industry and he always shares with her how rewarding his job is. "The trail classes give me the opportunity to learn more about woodcraft and experience it personally," said Chang, "it is truly a valuable experience".