Outstanding Youth Award Winners Demonstrate Incredible Strength and Global Mobility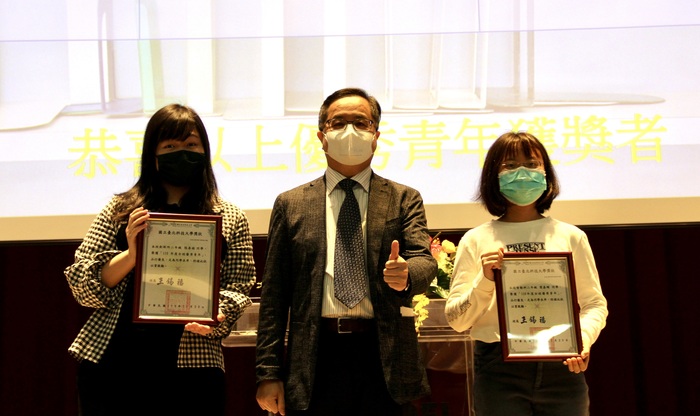 Taipei Tech recently announced the winners of the 2021 Outstanding Youth Award on December 14th. Chang Yen-yu, master's program student of the Department of Industrial Design, and Chien Chia-yi, five-year junior college student of the Department of Intelligent Automation Engineering, are the winners of the award for their outstanding academic performance.
Chang Yen-yu and her classmates came up with the design concepts of "Barcodiscount" and "Colorwrap" to tackle the issue of food waste. Their designs have won the Best of the Year honor in the 2020 iF Design Talent Award. Zheng Meng-cong, a professor of Taipei Tech Department of Industrial Design and Chang's master's thesis advisor, noted that Chang's biggest strength is her resilience. "Whenever she encounters any obstacle, she overcomes it with a positive attitude," commented Zheng.
Chang studied as an exchange student at Chiba Institute of Technology (CIT) in Japan when she was a junior student in Tunghai University. During her time in CIT, she found that she really enjoys thinking about design and the different approaches to solving a design problem. During this time, she also met one of Zheng's students who inspired her to choose Taipei Tech to continue her education. "I had heard that to study at Taipei Tech is not easy," said Chang, "but I accepted the challenge because I believe that I will learn so much more by choosing the hard way."
Chien Chia-yi is the first student of the Department of Intelligent Automation Engineering to have won the Outstanding Youth Award. Growing up dismantling and studying machines with her father, Chien has always been interested in tinkering with things. "It is very satisfying and rewarding to operate machine tools using my own hands," said Chien. Sun Yin-tung, Chien's academic advisor and professor of the Department of Mechanical Engineering, indicated that Chien always shows her eagerness to learn new things and her strong enthusiasm to help others.
At the age of sixteen, Chien has already participated in the IBM Engineers Week, and her team won third place in the IBM competition. Her team was tasked to build an autonomous delivery car using limited materials and resources. Chien also actively participated in the MIT City Science Summit to learn the demands of the global market. Her future goal is to go to the United States and study among the best students from around the world in a top university.