Dr. Sung Yu-chi Receives Outstanding Contribution Award of Civil Engineering Education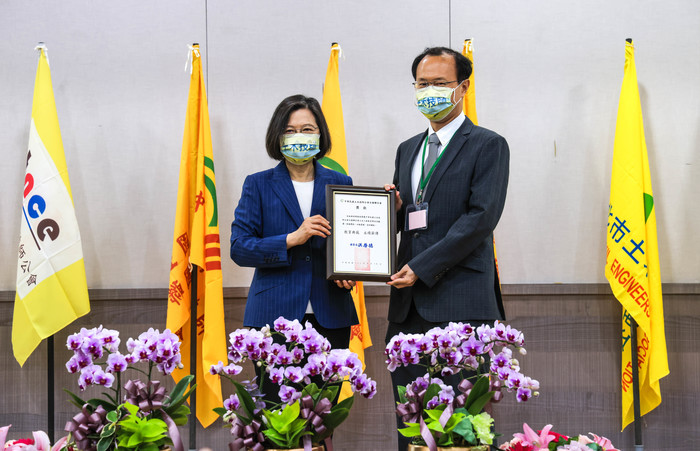 Dr. Sung Yu-chi, Distinguished Professor of Taipei Tech's Department of Civil Engineering, has received the Outstanding Contribution Award in Civil Engineering Education from the Chinese Union of Professional Civil Engineering. The award was presented by President Tsai Ing-wen to honor Sung's dedication in conducting forward-looking research and educating future civil engineers.
Sung is a renowned expert in Taiwan in bridge engineering and earthquake engineering. The Seismic Evaluation of Reinforced Concrete Buildings (SERCB) that he co-developed has been widely adopted in Taiwan's engineering industry. Sung has gotten many international patents for his research on the Precast Segmental Bridge Piers Constructed with a Modular Methodology, and he has also acquired patents in the US, Japan, and Taiwan for his work in Reinforced Concrete Frame Retrofitted with Steel Oval.
Before becoming a professor, Sung served in the Directorate General of Highways (highway management office) of the Ministry of Transportation and in China Engineering Consultants, Inc. He participated in several major infrastructures and bridge projects in Taiwan. They include Provincial Highways No. 2 and No.15, Civic Blvd Expressway in Taipei, MacArthur Bridge No. 1 in Taipei, and Gaopingxi Cable-Stayed Bridge in Kaohsiung.
In 2003, he started his teaching career at Taipei Tech, and he has taught over twenty-two different courses in both the graduate and undergraduate programs. His courses include structural design, bridge design and engineering, and earthquake engineering. As a dedicated and passionate teacher who wants to pass down all of his knowledge to students, he has been volunteering one extra hour for some of the required, foundation courses so that students can learn more. In order to familiarize his students with professional civil engineering English, he has also been teaching some of the courses in both Chinese and English. So far, he has advised eight doctoral students and seventy-two graduate students, and he has published over three hundred research papers.
With fruitful achievements in research and academic-industry collaboration, Sung has received many prestigious awards, including the Outstanding Engineering Professor Award, the Zhan Tianyou Paper Award, and the Engineering Paper Award of Chinese Institute of Engineers. He has also been the frequent winner of the outstanding awards of numerous domestic engineering institutes. In 2020, he became the first Taiwanese researcher to receive the ASCE T.Y. Lin Award, one of the most distinguished engineering awards in the US.