Cross-Campus Integration to Facilitate Smart Medical Technology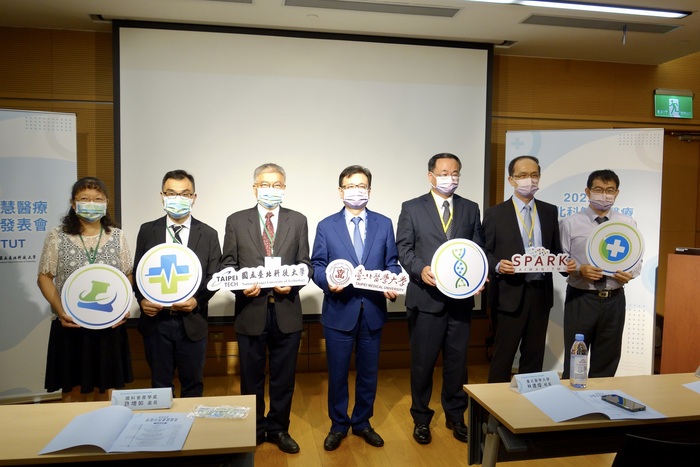 Taipei Tech and Taipei Medical University together held a presentation on July 28th to unveil the latest results of their collaboration on the commodification of smart healthcare products. Some of the results include innovative hemostatic materials, AI diagnostic biomarker system and smart endoscopy.
Wang Sea-fue, President of Taipei Tech, indicated that Taipei Tech and Taipei Medical University have long been alliances of the University System of Taipei, and have been cooperated on many projects in the integration of engineering, medicine, big data, and AI. In 2021, both universities join forces to set up a joint research center to promote the research and development on smart healthcare and translational medicine. Annual project funding of 10 million NTD is utilized to cultivate research talents.
Lin Chien-huang, President of Taipei Medical University, noted that Taipei Medical University is well-experienced in the commodification of biomedical products. "By bringing in Taipei Tech's expertise in engineering technique," said Lin, "our collaboration had led to the preparation of an innovative start-up company establishment, 6 patent applications, 3 Institutional Review Board (IRB) project applications and 4 National Science Council project applications." Lin believed that more fruitful and inventive results will be generated by the cross-disciplinary cooperation between the two universities in the future.
To address to the defect of current anti-adhesion hemostatic materials used in surgeries, Fang Hsu-wei, Distinguished Professor of Taipei Tech Department of Chemical Engineering & Biotechnology, worked with Chen Chih-yu, Orthopedic Doctor of the Taipei Medical University Shuang-Ho Hospital, to develop novel polysaccharide-based powdered anti-adhesion material. The product is expected to be approved and achieve technology transfer by next year.
Pai Tun-wen, Professor of Taipei Tech Department of Computer Science and Information Engineering, and Liu Ming-che, Urologist of Taipei Medical University Hospital, co-developed a diagnostic biomarker system through utilizing AI algorithm to select and analyze DNA methylation-based biomarkers in bladder cancer. Wu Meng-huang, Orthopaedic Spine Specialist of Taipei Medical University Hospital, and Chang Cheng-chun, Professor of Taipei Tech Department of Electrical Engineering, cooperated on smart spinal endoscopy development that can effectively prevent visual obstruction during surgery. The product is in the process of verification and is expected to be launched onto the market soon.