Taiwan University Seeks Patent for PCB 'Recycled Brick'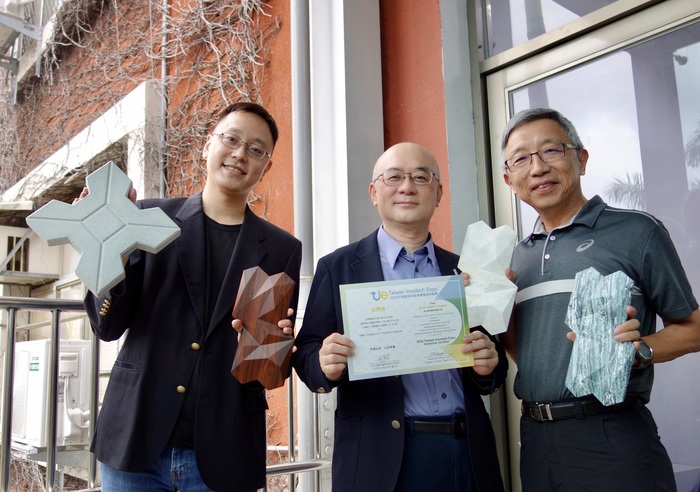 Article courtesy Focus Taiwan (By Chen Chih-chung and Chao Yen-hsiang)
Taipei, Oct. 18 (CNA) A research group from National Taipei University of Technology (NTUT) is in the process of applying for a patent for an eco-friendly "recycled brick" they developed using abandoned printed circuit boards (PCB) and glass powder, which if approved will help reduce the problem of PCB waste in Taiwan, according to a press release issued by the school Tuesday.
The bricks or paving stones come in different shapes and sizes and were the brainchild of Li Yeou-fong (李有豐), a civil engineering professor at the university, together with Cheng Ta-wui (鄭大偉) and Lee Wei-hao (李韋皞), who teach at the school's Institute of Mineral Resources Engineering, according to the release.
As part of the research process, the three men mixed PCB waste provided by Super Dragon Technology Co. (SDTI), recycled glass powder and inorganic polymer-like furnace slag, to create a basic solution from which they made the eco-friendly bricks. It took about one year to determine the "golden ratio" of different materials.
Li is a member of Taiwan Composite Association, a group which has promoted solutions to fibered-reinforced plastic (FRP) waste for years and was inspired by the way in which FRP waste is dealt with by adding other controlled low strength materials.
He decided to apply a similar method to the development of a recycled brick or paving stone for civil engineering applications, which requires a large number of bricks and therefore consumes more waste, facilitating greater economic efficacy, Li explained.
"Taiwan 'produces' more than 100,000 tons of PCB waste every year that is usually disposed of by companies such as SDTI," Li said.
However, after these companies recycle precious metals from the waste, macromolecular materials such as glass cloth and resin remains, which are too stiff to be recycled and emit toxic fumes if burned still remain, not to mention there is a law limiting how much PCB waste a company can place outdoors, Li added.
"As a result, these companies have to deal with this waste and the materials used to make the recycled bricks costs nearly nothing," Li told CNA, indicating that the bricks promote the circular economy while befitting the needs of companies.
In addition, whereas a standard concrete brick or paving stone can withstand nearly 3,000 pounds of pressure per square inch (psi), recycled bricks can withstand at least 6,000 psi, Li said.
The bricks recently received a Gold Medal Award at the 2022 Taiwan Innotech Expo, and SDTI is looking to sign a technology transfer contract with the group, Li revealed to CNA in a phone interview.
However, the core value of the group's invention is to be found not in the new way in which it produces bricks but in the new applications it offers for inorganic polymers, Li said, adding that the waste can also be used to produce such higher value products as plant pots, chairs and umbrella holders.