Delegation from 17 APEC Economies Attended 2022 APEC Forum on Entrepreneurship and Future of Work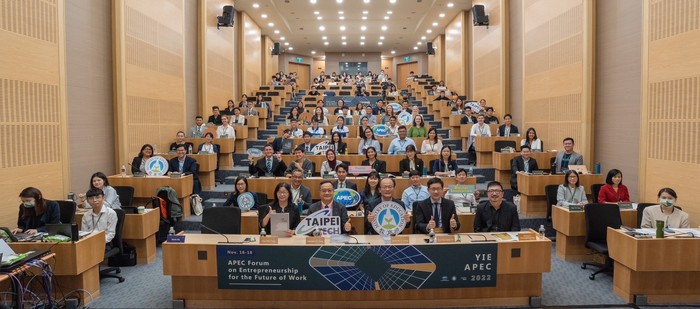 The 2022 APEC Forum on Entrepreneurship for the Future of Work initiated by the Ministry of Education (MOE) and hosted by National Taipei University of Technology (Taipei Tech), took place from November 16 to November 18. The forum was the first physical event after the pandemic that invited speakers and delegates from the APEC region to participate. The forum attracted greater over-seas participation than ever before. 95 delegates from 17 APEC members economies (including Taiwan) registered and participated in the 3-day event. Through in-person exchange, the forum is expected to re-strengthen regional cooperation.
James H.C. Liang, Deputy Director General of the Department of Higher Education, MOE, indicated that under the influence of the pandemic, the ministry has not been able to host a physical event for two years. "We can finally meet with the delegates from the region in person and discuss the critical issues face to face," said Liang.
Liang also noted that the COVID-19 pandemic has triggered major disruptions on many aspects and people's everyday lives for the past couple of years. Among these disruptions, young people and women are particularly singled out as the groups that are most significantly affected in terms of their economic well-being and labor force participation. The pandemic has also changed the market ecology and expedited the digital transformation of traditional industries. "Therefore, to build up capacity and entrepreneurial skills for this changing world of work, preparing and cultivating women and youth in the APEC region to be ready for the post-pandemic job market is a prioritized mission and the theme of this forum," said Liang.
Thomas C.K. Yang, Taipei Tech Vice President, indicated that Taipei Tech has been dedicated to providing many entrepreneurial practice courses to encourage students to explore their creativity, and to teach them how to realize their business ideas. "We have also established a new innovative cooperative platform, iFIRST College, focusing on the key areas of current research and development trend such as artificial intelligence, semiconductor, and information security," said Yang, "by rolling out master and PhD programs, this new college aims to cultivate forward-looking talents for tomorrow's world of work". Yang encouraged the participants to keep their fingers on the pulse of market, industry, and technology, and to bravely take on the challenges ahead.
Audrey Tang, Minister of Digital Affairs was invited as the keynote speaker of the forum to share how the government implement new policy to help the future of work toward achieving digital transformation. Jeff Hu, the CEO & Co-founder of Turing Certs, who is known as one of the most promising entrepreneurs in the blockchain industry, was also invited to share his startup experience and how his business contributes to cross-regional economic recovery.
To promote female empowerment, a female entrepreneurship panel session was incorporated in the second day of the event. Becky Chin Chi-yun, Representative from Her Attitude, Ngo Thi Hoai, Director of Wecreate from Vietnam, Jennifer Chen, Co-founder and CEO of Dipp Inc. were invited to share their startup journey and to encourage women's participation in non-traditional sectors.
The third day of the event was the Regional Youth Start-up Contest. Students and young entrepreneurs-to-be from the region shared their business ideas through demo pitching while a group of professional juries from venture capital companies and incubation centers evaluated their business models. Aside from getting feasible suggestions, contest prize was given to the contestants with the most innovative and sustainable business ideas that help accelerating regional recovery.