Five Taipei Tech Students Won the Outstanding Awards of Technological and Vocational Education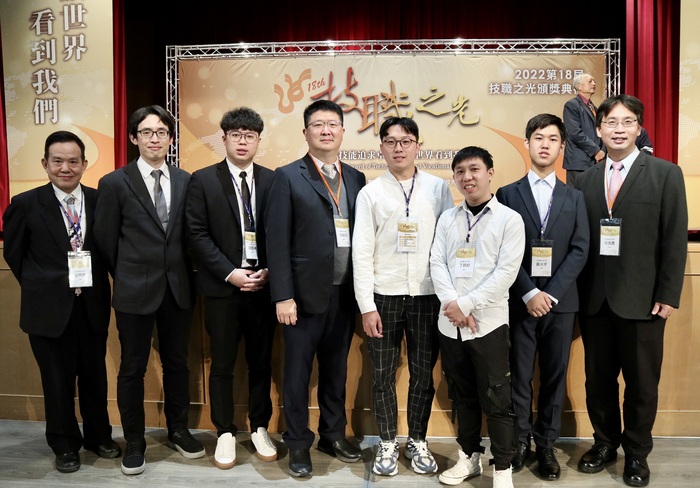 The Ministry of Education presented its 18th Outstanding Award of Technological and Vocational Education on December 29th. Three groups of 5 Taipei Tech students had received the awards. Tian Jia-cheng, Wang Pin-huai, Ding Yi-jun and Huang Guang-yu were the winners in the Competition Excellence category, and Liu Fei-long was the winner in the Outstanding Technical Skill category.
Tian Jia-cheng, who is now a junior in the Technical and Vocational Program in Mechatronics, won the gold medal for his performance at the 2022 WorldSkills Competition in the Refrigeration and Air Conditioning category. During his five-year preparation for the competition, Tian had hit rock bottom after his injury and dropout, but he managed to pick himself up and rejoin the competition, finally winning the honor.
Wang Pin-huai and Ding Yi-jun are students in the Department of Industrial Design. They designed a creative camping table and won first place at the 2022 Kengo Kuma & Higashikawa KAGU Design Competition held in Japan. It was the first time that Taiwanese students were shortlisted and won the competition.
Huang Guang-yu, student in the Department of Intelligent Automation Engineering, teamed up with students from National Kaohsiung University of Science and Technology and designed a system that encourages water conservation by combining smart water meter, Line Bot and Watson Assistant technology developed by IBM, and connecting to government open data and social media. The team participated in the 2021 Call for Code P-TECH competition and won first place.
Liu Fei-long is a 64-year-old PhD student in the Department of Industrial Engineering and Management. He has been dedicated to developing innovative and effective construction methods and holds 4 invention patents and 24 utility model patents. He had developed a pipe-freezing method that is applied and used in the high-tech industry.