NSF-Funded Student Group Visited Taipei Tech, Learning Next-Generation Display Technology Development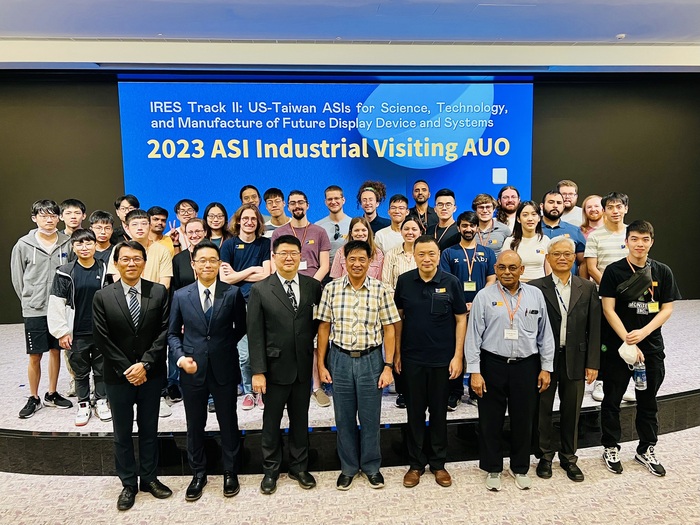 Fourteen graduate students from various American universities participated in a the Advanced Studies Institutes (ASI) program funded by the U.S. National Science Foundation (NSF) and organized by Pennsylvania State University (Penn State) and the University of Dayton. The purpose of the program was to conduct research exchange in the field of next-generation display technology. The student group visited Taipei Tech from July 13th to 19th and met with 16 graduate students from Taipei Tech and National Yang Ming Chiao Tung University with an optoelectronics background. Together, they learned about innovative display technology and discussed future research cooperation.
Taipei Tech President Wang Sea-fue expressed his honor in welcoming the NSF student group to Taipei Tech for the first time. The one-week itinerary arranged by Taipei Tech included core courses on new generation display technology, group laboratory experiments, and the sharing of experimental results. President Wang stated, "The student group will also have a chance to visit our industry partners, AU Optronics (AUO), and PlayNitride Technology, allowing both Taiwanese and American students to gain insights into the latest industry technologies and display manufacturing processes."
Vincent Meunier, the head of the Department of Engineering Science and Mechanics at Penn State, delivered a video speech praising Taiwan for its leadership in the field of display technology. He said, "The NSF's ASI program aims to cultivate talent in next-generation display technology. This cooperation provides students with the opportunity to expand their professional knowledge and establish academic and industry networks."
Taipei Tech Vice President Jen Yi-jun pointed out that the intensive courses prepared for the students focused on diffraction and wave optics, as well as display technology. Students from Taiwan and the United States were grouped together to collaborate on laboratory experiments. Vice President Jen said, "The goal was to nurture students' teamwork spirit and provide them with international collaborative opportunities."
During July 17th to 19th, the NSF student group was invited to visit AUO and PlayNitride Technology. AUO is one of the world-renowned companies in the display industry, where they observed advanced display technology products and applications and learned about flexible display technology and intelligent manufacturing. PlayNitride Technology is Taiwan's first publicly-listed company on the Innovation Board, showcasing various MicroLED display applications, especially transparent displays and ultra-high-resolution full-color micro-display technology used in the metaverse.