Taipei Tech and Taipei Medical University Showcased Innovative Smart Healthcare Technologies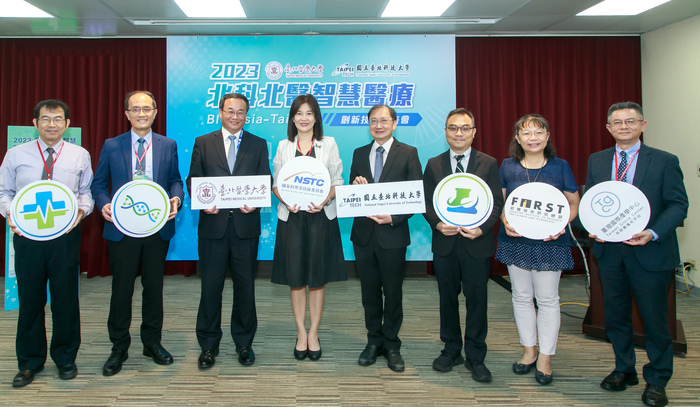 Taipei Tech and Taipei Medical University presented their new collaborative results on smart healthcare during the 2023 BIO Asia-Taiwan event. The two universities are long-term partners in the University System of Taipei, and have collaborated for over a decade in the field of medical engineering, jointly developing innovative applications and nurturing advanced research talents.
Taipei Tech Vice President Yang Shih-hsuan noted that the two universities have established a joint research center, bringing in an annual investment of NT$10 million to seek new creative projects in areas such as artificial intelligence, biotechnology, medical equipment, and information and communication technology. The innovative technologies created through the research center will be integrated into Taipei Medical University's medical system, strengthening the quality of medical services.
Taipei Medical University Vice President Wu Chieh-hsi indicated that the joint research center has already presented significant achievements in two years, employing AI technology for prevention, diagnosis, monitoring, and assistance in treatments. The center has also facilitated the establishment of one startup company, initiated technology transfers across universities, submitted four patent applications, applied for three IRB projects, and produced seven prototype products for conceptual verification.
One of the noteworthy research projects is the collaboration between Professor Fang Hsu-wei from Taipei Tech's Department of Chemical Engineering and Dr. Chen Chih-yu , an orthopedic specialist at Shuang Ho Hospital. Their team is developing three formulations of polysaccharide-based anti-adhesion products in powder, gel, and dressing forms. This new product can be widely applied in orthopedics, plastic surgery, gynecology, improving effectiveness and safety, and it is currently ready for commercialization, mass production and distribution.
In response to the current limitations of highly invasive cystoscopy for bladder cancer screening, Professor Pai Tun-wen of Taipei Tech's Department of Computer Science and Information Engineering and Dr. Liu Ming-che, the head of the Urology Department at Taipei Medical University Hospital, are working together to employ biomedical big data combined with AI algorithms to screen and analyze DNA methylation biomarkers in urine. Their product is also advancing towards commercialization, serving as an effective solution for non-invasive bladder cancer detection.
Dr. Wu Meng-huang, head of the Taipei Medical University Hospital's Spinal Orthopedics Department, is working with Professor Cheng-Chun chang from Taipei Tech's Department of Electrical Engineering on developing smart spinal endoscopes. By utilizing AI image analysis technology to interpret real-time surgical images, it can accurately locate the bleeding spot and reduces surgical risks. This research project has been funded by the National Science Council and the Ministry of Economic Affairs.